ThinGap's LS Line of Slotless, Frameless Motor Kits
ThinGap's LS line targets low speed, high precision applications such as gimbals, optics, and precision robotics.
Highest torque density with high power capability. Low thermal resistance at any speed.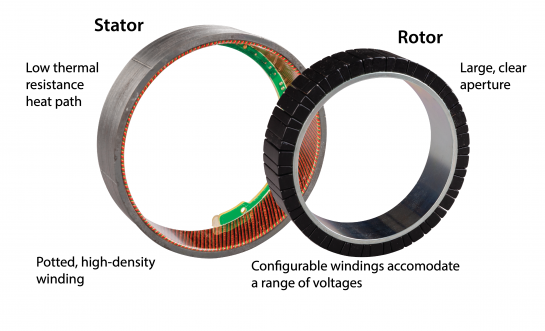 Features Include:
Smooth motion with zero cogging and ultra low torque ripple when paired with a sinusoidal drive
High peak torque to continuous torque ratio
Optimized for ultimate torque density
Stationary lamination stack for typical bore mounting
3 phase brushless, sinusoidal waveforms < 1% THD
Non-saturating facilitates very high peak torque (typically >4:1)
Exceptionally large clear apertures
Frame-less kit facilitates deep integration
Hall Sensor option available for the LSI 105-33, LSI 152-29, and LSI 267-32
Large through hole
Available Products
Average Lead Time: 7-9 weeks
Average Non-Stock Lead Time: 14 weeks
* Torque values are based on the LS Series motor kits being unmounted. Possible torque values can be up to 10-15% higher when in a housing.
Number designation LSI-XXX indicates O.D. in mm. All motor kit parameters were calculated assuming that the motor kit was not in any form of housing to assist with temperature management. Contact ThinGap for detailed specifications and datasheets. Custom designs are also available.
ThinGap LS Motor vs Alternative Technologies